Married to Tradition: Henna Night offers glimpse into Turkish culture
LaReeca Rucker:
The Clarion-Ledger
The conservatively dressed women rushed to get in line when asked if they wanted a free tattoo. One by one, they sat and watched an artist adorn their hands and arms with intricate designs that some call fooffys, humps, wibbleleafs, ziggyzoggys, fishbones, mummies and sprouts.
While Gloria Borders asked for a small flower that wouldn't be distracting during Sunday morning choir service at Fannin United Methodist Church, Elise Morse-Gagne, a Tougaloo English professor, let them cover the back of her hand with a web of lines. And she didn't object when daughter Katie, 13, did the same.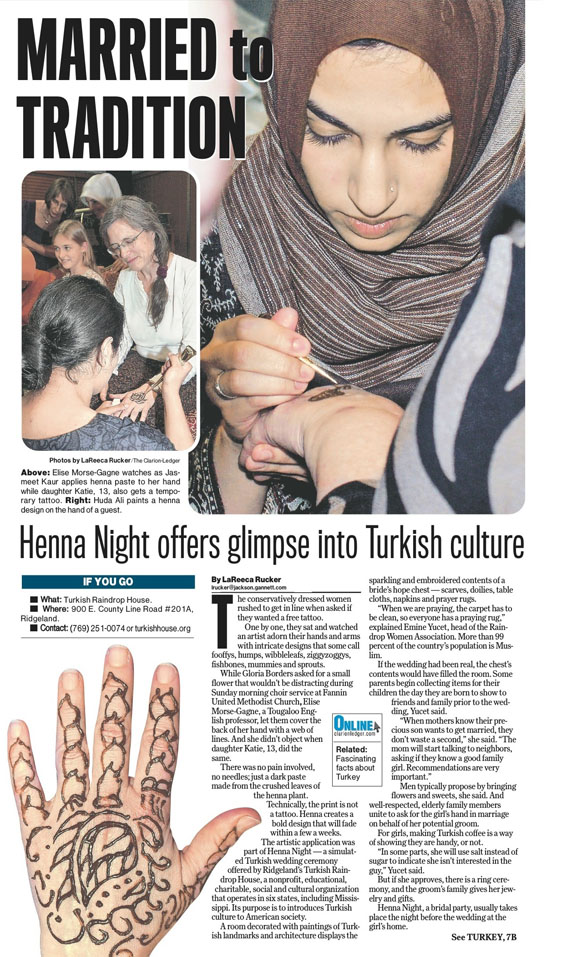 There was no pain involved, no needles; just a dark paste made from the crushed leaves of the henna plant. Technically, the print is not a tattoo. Henna creates a bold design that will fade within a few a weeks.
The artistic application was part of Henna Night - a simulated Turkish wedding ceremony offered by Ridgeland's Turkish Raindrop House, a nonprofit, educational, charitable, social and cultural organization that operates in
six states, including Mississippi. Its purpose is to introduce Turkish culture to American society.
A room decorated with paintings of Turkish landmarks and architecture displays the sparkling and embroidered contents of a bride's hope chest - scarves, doilies, table cloths, napkins and prayer rugs.
"When we are praying, the carpet has to be clean, so everyone has a praying rug," explained Emine Yucet, head of the Raindrop Women Association. More than 99 percent of the country's population is Muslim.
If the wedding had been real, the chest's contents would have filled the room. Some parents begin collecting items for their children the day they are born to show to friends and family prior to the wedding, Yucet said.
"When mothers know their precious son wants to get married, they don't waste a second," she said. "The mom will start talking to neighbors, asking if they know a good family girl. Recommendations are very important."
Men typically propose by bringing flowers and sweets, she said. And well-respected, elderly family members unite to ask for the girl's hand in marriage on behalf of her potential groom.
For girls, making Turkish coffee is a way of showing they are handy, or not.
"In some parts, she will use salt instead of sugar to indicate she isn't interested in the guy," Yucet said.
But if she approves, there is a ring ceremony, and the groom's family gives her jewelry and gifts.
Henna Night, a bridal party, usually takes place the night before the wedding at the girl's home. According to the Turkish Raindrop House Web site, henna must be mixed by a woman who has a happy family life. The bride traditionally wears a velvet, embroidered henna gown and a beaded red scarf on her head. She is adorned with henna. Her hands are covered with handkerchiefs, and henna is distributed to guests.
"While putting the henna on the bride's hands, friends sing a mournful song to make the bride and her mother cry," Yucet said. It reminds them this is the final day she will be at her parents' home.
"She doesn't open her hands until she gets a gold coin from the mother-in-law," Yucet said. Guests later dance and play games.
According to Hennatribe.com, henna has been used by a wide variety of cultures, tribes and ethnic groups for thousands of years. Buddhists, Christians, earth-based religions, Hindus, Jews, Muslims and others use henna for celebrations and rituals. Some believe the plant brings love and good fortune and protects against evil.
Hatice Gonul, a Raindrop Turkish House Women Association member and director of the Turquoise Council of Americans and Eurasians, said henna represents dedication, devotion and sacrifice in Turkish culture.
While Henna Night is a custom that can differ from region to region, the wedding day has religious aspects. The bride and groom take vows according to Turkish marriage laws. Then, in front of friends and family, they take religious vows. An imam, or religious leader, conducts the ceremony that involves two requirements - "mehir" and "accepting marriage" before witnesses.
"Mehir is something the groom has to provide for her," Gonul said. The bride may ask for anything - money, gold, property, etc.
The ceremony is begun in the name of God with praise to Mohammed and other prophets. After asking the couple if they accept each other, the imam announces them and reminds them of their duties and rights given by God. He recites verses from the Quran and prays for both.
Opening doors
The Turkish Raindrop House was established in 2008. It offers Turkish cuisine classes, cultural nights, picnics, traditional dinners, Turkish coffee nights and performances.
"It is our hope that all of us can learn that diversity would serve as a matter of peace, increase awareness of other cultures, and bring the beautiful taste of Turkish customs in Mississippi society through these kinds of programs," Gonul said.
The association works in cooperation with the the Institute of Interfaith Dialog, established in 2002 by Turkish-Americans. The institute organized a trip to Turkey in 2005, and Borders was one of the 55 travelers. She said her husband, Rod, now pastor of Fannin United Methodist Church, was invited as an institute board member.
"I think it's wonderful that we can get together and do things like this," she said, looking at her henna flower.
Her friend, Vicki Parnell, a self-proclaimed "cultural buff, said she "loved the ritual of the wedding and the fabrics."
Morse-Gagne also enjoyed it. "They are so warm and hospitable," she said, watching Ambreen Amer decorate her daughter's hand with henna paste. "I'm starting a hope chest for her."